Conference summary: Współczesna kobieta – liderka partnerka, matka with a keynote speech from KRUK's CIO Urszula Okarma

KRUK paves the way for women's success in the financial sector – a summary of A Modern Woman: Leader, Partner, Mother conference
"At KRUK, we are very much aware that gender equality is critical for growth, resilience, and socio-economic stability of the company. We tackle the complexity of gender-related issues with utter importance and despite being at the place where many other organisations strive to be, our work towards equality is not finished yet." – said Urszula Okarma.
Modern women function in more than one capacity. They can be leaders, partners and mothers at the same time. While there is no doubt that the same variety of roles can be played by men, women's case comes with more challenges and inequalities. According to the Global Gender Gap Report 2022 published by World Economic Forum, gender parity is not recovering after recent years' events and it will take another 132 years to close the global gender gap. All conference speakers have agreed that decisive action is necessary in order to make the change happen within our lifetime. Themes highlighted during the conference all focused on the importance of engaged society and business, mutual support, and solidarity among women. Speaking of inequalities that women face yet again proven to be of high interest – the conference brought together an audience of almost 10 000 people.
KRUK as one of the key participants had an opportunity to discuss the position of women in business and managed to shed a positive light on the grim statistics in regard to the situation of women in the workforce. We were represented by Urszula Okarma, the Management Board member and the Chief Investment Officer of KRUK Group, who shared the great results we have achieved in retaining gender equality and pledged to launch the new programmes dedicated to accommodating employees' needs that will help KRUK Group grow stronger, attract even more talents and become more sustainable.
International Monetary Fund's research has shown that globally, twice as many women as men take up the responsibility of childcare and spend quadruple as much time taking care of unpaid housework. In the European Union, 25% of women declared care work as the main reason for their absence on the labour market - that number falls to 3% for men. Another research, this time from the Institute for Fiscal Studies, reveals that the pay gap widens consistently for 12 years after the first child is born, by which point women receive 33% less pay per hour than men. On the other hand, women that decided to actively climb the career ladder, very often are burdened with gender- or age-based discrimination. Businesses still commonly draw on culture's age stereotypes and perceive both younger and more mature women's competencies through the lens of ageism.
Experts at the conference underlined the role of so-called "queen bees" and "she-dragons". These terms refer to women in leadership positions keen on maintaining the status quo which often results in bringing female colleagues down by diminishing their achievements and promoting men. On top of that, women tend to prevent themselves from having the career development they desire. Internal obstacles such as imposter syndrome make women doubt their capabilities as well as the significance of their contributions to career-specific milestones.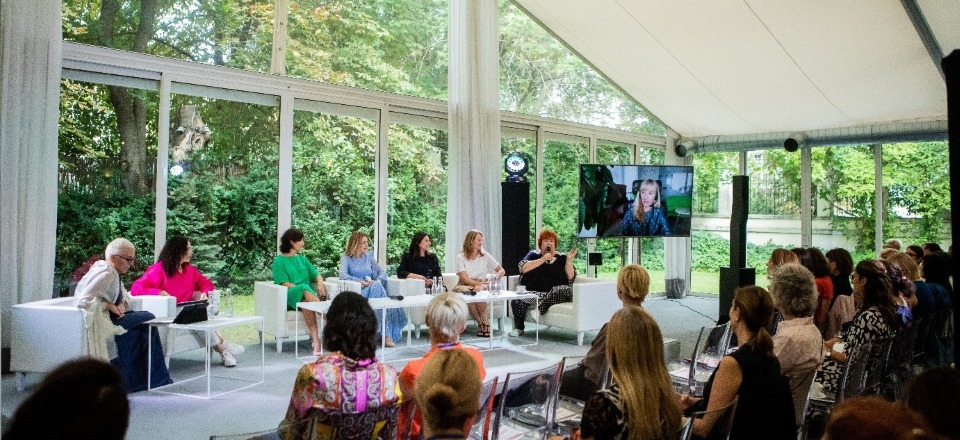 Women at KRUK have a strong representation in top management positions which perfectly reflects the 60% of female employees in the company structure. The Management and Supervisory Boards consist of 41% of women, Head positions are taken over by 57% of women, and we also have 60% of female General Directors on the group level.
Although these achievements set KRUK as one of the best-performing entities in reducing inequalities, we want to further focus our efforts on the unique challenges women and men face. For that reason, KRUK Group is working on developing its own employee's empowerment programme that not only promotes equity among genders but also recognises the nuanced differences among employees to help them better fulfill their role as parents and partners as well as develop their professional competence.
The conference reinforced the perception of businesses as lead change-makers in the global battle towards a fair world for everyone. Together we can achieve higher quality organisations, a positive effect on economic outcomes and performance, and a new agenda that reforms the quality of women's lives today and for generations to come.